The Best Astrology Dates of 2023
As you read this on 1st January 2023, pencil in these dates in your diary or calendar. They are the luckiest and best astrology dates of 2023. Time to plot and plan with Jupiter, the fortunate planet. Goodbye Year of the Tiger, hello Year of the Rabbit. Did you know that in Asia, astrologers have also watched Jupiter for centuries?
Astrology gives us the advantage. In 2022 astrology predicted – the end of The Queen on currency, a religious team winning the World Cup (the Pope is from Argentina) and a third woman Prime Minister and female Deputy Prime Minister in Britain. You read it all on this website, sometimes years before it came to pass. 
Astrology also predicts your future, of course. I've found some good dates to circle in your diary or calendar for 2023. It's all about the 'greatest and best' planet Jupiter.
Try your luck or push your luck when Jupiter is in Aries, alongside other planets. The Jupiter transits of 2023 are good to know. Jupiter is about growth, hope, expansion, rewards, solutions and optimism.
Something you might notice about 2023 is that all you did, 12 years ago, now comes back to reward you. If you planted something in your life the last time lucky Jupiter was in Aries, or Taurus (or both) then 2023 is the year that the acorn will produce an oak tree.
What I've done here is find the window on your 2023 calendar when a majority of factors are all working with Jupiter to help you. The astrology is historic, rare and extremely fortunate. Please use it.
Your Sign Shows You the Jupiter in Aries Luck in 2023
In Aries weather, you gain opportunities and rewards in these areas of your life. The area of life is shown below, by your Sun Sign (zodiac sign). The best astrology dates of 2023 help you as follows:
Aries: Title, appearance, reputation, profile, image.
Taurus: Religion, counselling, psychics, meditation.
Gemini: Friends, groups, teams, pure people power.
Cancer: Mission, position, ambition, goals and roles.
Leo: Foreigners, foreign countries, the worldwide web.
Virgo: Finance, property, business, charity, valuables.
Libra: Marriages, work partnerships, duets of all kinds.
Scorpio: Lifestyle, workload, health, duty, service.
Sagittarius: Courtship, babies, children, Millennials.
Capricorn: Home, family, household, town, country.
Aquarius: Siblings, cousins, the web, media, short trips.
Pisces: Banking, saving, profiting, owning, earning.
Do You Have Aries Factors?
Your lucky windows also include a successful relaunch of your title, appearance and reputation, to your total advantage.
Do You Have an Aries Stellium?
With four, five, six or more factors in Aries, your relaunch in early 2023 will completely transform how you are seen. February 21 to March 16: First Lucky Astrology of 2023
Aries weather helps you in the life area I mention above, from February 21 to March 16 2023. Go through the door. Jupiter in Aries, Venus in Aries and Chiron in Aries open up the possibilities, for this part of your life.
March 21 to April 3: Second Lucky Astrology of 2023
Again, Aries weather rolls soon after this, and in the area I list for your sign, above, you will find big doors open. Jupiter in Aries, Sun in Aries, Mercury in Aries, New Moon in Aries, Chiron in Aries offer an intense period of hope and growth. A lot will happen very quickly.
Taurus Weather and Jupiter in Taurus
This cycle will save or make you a lot of money if you have Taurus factors in your birth chart, or better still, a Taurus stellium. Use your windows, dated below. We can also look at your sign in general.
Your Zodiac Sign and Lucky Jupiter in Taurus
Do check your sign, below, to see the general lucky weather forecast for Jupiter in Taurus, together with other factors. Which area of your life could boom?
Aries: Money, business, property, charity, valuables.
Taurus: Reputation, title, appearance, profile, image.
Gemini: Religion, counselling, Tarot, meditation.
Cancer: Friends, groups, allies, teams, clubs, networks.
Leo: Career, unpaid work, academic career, goals, roles.
Virgo: Foreigners, foreign countries, the worldwide web.
Libra: Finance, property, business, charity, valuables.
Scorpio: Marriage, professional partnership, all duets.
Sagittarius: Lifestyle, health, workload, daily routine.
Capricorn: Courtship, babies, children, Millennials.
Aquarius: House, family, household, flat, town, country.
Pisces: Siblings, cousins, the internet, the media, short trips.
The Jupiter in Taurus Windows for Luck
Referring to the life area listed above, for yourself or the people you know, these are the dates to use for luck.
May 18, 19, 20
This will vary slightly according to your time zone, but the Sun, New Moon, Uranus, the North Node and Jupiter in Taurus are on your side then. This is the most important New Moon of 2023. These three days launch a huge fresh start.
June 2nd to 11th
Mercury in Taurus, no longer retrograde, joins Jupiter, Uranus and the North Node in the same sign. Historic agreements, negotiations and signatures will follow. In true Jupiter fashion these will be extremely fortunate.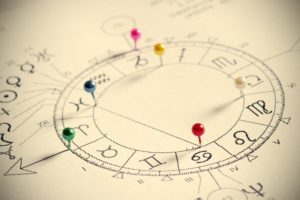 Two Very Lucky Astrology Dates to Use
Allow a day either side for world time differences. Jupiter conjunctions in Aries and Taurus show us where the luck is. I have also added personal birth chart information in case you are among the super-lucky and have this trigger your personal horoscope too.
March 12th
Jupiter in conjunction with Chiron at 14 Aries. This is an amazing period of optimism, growth and 'getting away with the impossible' as the world is ready to try its luck. If you have factors at 14 Aries you will be given a chance to completely refresh the way you are seen, discussed and viewed. You may become famous, have a successful makeover or obtain a title.
June 1st
Jupiter in conjunction with the North Node at 3 Taurus is very special. This is the beginning of a way out, or way through, world economy questions. On a personal level, you and the people around you could really profit now. If you have factors at 3 Taurus then you could easily make or save a lot of money, as you have good karma from almost two decades ago coming your way, in your chart.
Tip: If you also have the North Node or South Node at 3 Taurus the good karma is owed to you from the Second World War as your past life then signals rewards now for all you did. You can read more about this in my latest book, Modern Astrology 2050.
Happy New Year!