2023's most important astrological event – Pluto entering Aquarius – highlights the second half of March. We also have a supercharged Aries New Moon, the Spring Equinox chart, and much more!
This forecast covers this half-month's most important astrological events. Also check out my award-winning This Week in Astrology audio podcast and YouTube video forecasts!
Click astrology graphics to see larger images. Some resource links may occur more than once. This is because many people link to a specific day's forecast from social media, and might not see an important resource link elsewhere on this page.
As of March 16 …
The Moon is waxing (there was a Virgo Full Moon on 3/7).
There are no retrograde planets or existing aspect patterns.
---
"Really works!"
Jennifer Kastelic wrote this 5-star Amazon review of my #1 best-selling book, Instant Divine Assistance: Your Complete Guide to Fast and Easy Spiritual Awakening, Healing, and More:
"This book was a great find! I was looking for affirmation ideas and this came up and it is wonderful. It is a quick read and the instructions are easy.
"I'm sure some could say it's placebo or even a little CBT and yet I have become much more aware of my emotions and how I am handling life … saying these affirmations really makes a difference I can feel very quickly.
"It's like as many resets as I need through out the day with many wonderful insights along the way. What a gift!"
Ebook — only $3.99, and included with Kindle Unlimited.
Paperback — only $12.99
---
3/16 (Thu)
Grand Trine Supports Perseverance, Trauma Healing, and More
Perseverance and trauma healing are supported for more than a month by a Grand Trine with Mars, Saturn, and the South Node. This harmonious aspect pattern starts today (3/16), peaks on 4/1, and ends on 4/21.
Mars and Saturn create an Energizer Bunny dynamic. Mars provides the raw energy, while Saturn systematically parcels it out for maximum productively. The South Node can help you activate past life gifts and talents. And its placement in Scorpio can add plenty of power to the proceedings.
Both the South Node and Scorpio are associated with unhealed wounds and traumas. Mars in Cancer can energize the processing of challenging emotions. Saturn can give you the discipline and focus to hold steady during your healing process, while Pisces encourages you to delegate this healing to your inner divine power. (To learn how to do this quickly and easily, check out my free Healing Invocation.)
Law of Attraction, Embodied Awakening, and Manifesting Inspired Creativity
This Grand Trine can also help you activate the upside potentials of Saturn in Pisces. These include Law of Attraction work, embodied awakening, and manifesting your inspired creativity into tangible form. Mars in Cancer can energize you and add emotional excitement, while the South Node in Scorpio can empower both your latent and previously developed gifts and talents.
3/15 (Wed) thru 3/20 (Mon)
The Sun and Mercury Team Up to Aspect Neptune, Mars, and Pluto
It's a busy five days for the Sun and Mercury. Teaming up in the final degrees of Pisces, they not only conjoin each other, but also aspect Neptune, Mars, and Pluto!
The Sun and Mercury's presence in Pisces and their Neptune conjunctions highlight the twelfth astrological archetype. This makes it easier to attain deep spiritual states, open to inspired creativity, and operate "in the zone." This Pisces/Neptune energy is also great for working with dreams and inner journeying.
Mars energizes all this, thanks to its squares with the Sun and Mercury. The fact that Mars is in Gemini, the same archetypal energy as Mercury, boosts your ability to learn and share information. It can also help you be more playful and enjoy more variety.
Even more energy for all the above is available thanks to Pluto's sextiles to the Sun and Mercury. If you want additional wealth or power, Pluto can help you manifest it!
Here are all the aspects I've been interpreting:
3/15: Sun conjunct Neptune (25°6 Pisces)
3/16: Mercury conjunct Neptune (25°8′ Pisces)
3/16: Sun square Mars (25°53' Pisces-Gemini)
3/17: Mercury square Mars (26°5' Pisces-Gemini)
3/17: Sun conjunct Mercury (26°34' Pisces)
3/18: Mercury sextile Pluto (29°55' Pisces-Capricorn)
3/20: Sun sextile Pluto (29°57' Pisces-Capricorn)
Kick your personal evolution into high gear! Awakening Plus offers you online spiritual and shamanic experiences … 500+ consciousness-shifting recordings … and life-transforming courses. This extraordinary membership also gives you community connection and personal support.
Ready to awaken, heal, and thrive like never before? Click to learn more!
3/16 (Thu) & 3/17 (Fri)
Two Venus Aspects
It's impressive that the Sun and Mercury have seven aspects, but Venus has two noteworthy mid-March aspects of her own. There's a Venus-Pluto square on 3/16 (29°52' Aries-Capricorn) and a Venus-Saturn sextile (1°11' Taurus-Pisces) on 3/17.
In combination, these two Venus aspects strongly energize relationships, creativity, and finances.
If you experience relationship challenge, remember that Venus is in Taurus, astrology's most stable and grounded sign. Take a breath and feel the solid earth under your feet. It can also help to have a proven tool for harmoniously healing relationship conflict, such as Marshall Rosenberg's Nonviolent Communication system.
Not only could you get a creativity boost from the Pluto square, but the Saturn sextile can help you enjoy strong artistic productivity. There are also auspicious financial possibilities: Venus is dignified in Taurus, the sign of money, and Pluto represents wealth!
3/20 (Mon)
Spring Equinox Chart / Sun Enters Aries
The Sun enters Aries at 5:24 pm EDT, heralding the arrival of the Spring Equinox. Its chart, potently energized by four aspect patterns, gives a sense of the overall energy the world will experience for at least the next three months.
Being the start of the astrological new year, The Sun's entry into Aries is great for starting new things and reinvigorating old ones. Aries energy is ideal for acting as a pioneer, warrior, entrepreneur, or sexual being.
Four Potent Aspect Patterns
As noted above, the Spring Equinox Chart contains four potent aspect patterns.
Grand Trine
1.  A Grand Trine with Mars, Saturn and the South Node harmoniously supports perseverance, trauma healing, Law of Attraction work, embodied awakening, and manifesting your inspired creativity. Learn more in my 3/16 Grand Trine interpretation above.
T-Square #1
2.  A T-Square with the Sun, Mercury, Mars, Ceres, and Neptune energizes lots of life-affirming opportunities! Learn about them in my 3/21 New Moon interpretation below.
Triple Conjunction with Vesta, Jupiter, and Chiron
If we consider just Jupiter and Chiron in Aries, five key themes emerge: wisdom, trauma healing, amplified assertiveness, sexual trauma, and sexual upside opportunities. I discuss these in my 3/12 "Jupiter Conjunct Chiron" interpretation.
If we also consider Vesta, this Triple Conjunction amplifies the opportunity to share your wisdom or healing abilities in service of the greater good. If you're not ready yet, it supports starting or continuing your training so you can do so later.
---
T-Square #2
Do your relationships support your life purpose? That's the main question posed by this T-Square with Venus, Juno, Pluto, and the Lunar Nodes.
Venus represents all your important relationships, Juno represents committed partnerships, and the lunar nodes represent life purpose. The tight Triple Conjunction of Venus, Juno, and the North Node puts massive emphasis on connecting with the people who help you move toward your life purpose.
Pluto makes moderately strong squares to everything else in this T-Square. Part of his job is to stir up challenge in relationships that need repair or release. But he's equally happy to bless highest good relationships with power and wealth (which can be whatever you value). A well-known instigator of shadow work, Pluto can also use even the most wonderful relationships to trigger old wounds – so you can finally heal them once and for all.
This T-Square also has great financial upside, especially if you're earning money in a way that aligns with your life purpose. Look for partnership opportunities here, with a business associate, customers, or clients.
The #1 Astrology Software for Windows — at an Unbeatable Price!
SOLAR FIRE 9 is the world's leading astrology software for Windows. Earlier versions brought an unprecedented level of ease to casting and working with astrological charts. The current version adds many more calculations, extra convenience features, more interpretive text, and exciting new graphic displays.
SOLAR FIRE 9 contains something for everyone!
For advanced astrologers and professionals, it has a great variety of high-precision astrological calculations and an exceptional degree of user-customization.
For novices, its innovative point-and-click chart interpretations provide an enjoyable way to learn. Many easily explored options will encourage you to experiment with new techniques.
No one sells Solar Fire for less than AstroShaman.
Click here to learn how Solar Fire can supercharge your astrology!
3/21 (Tue)
Supercharged Aries New Moon!
A New Moon lines up at 1:23 pm EDT (0°49′ Aries), less than 24 hours after the Spring Equinox. This Aries New Moon is supercharged by powerful aspects from all three outer planets, plus several others!
But let's not get ahead of ourselves. For starters, any Aries New Moon is great for new beginnings or fresh energy as a warrior, pioneer, entrepreneur, or sexual being. More broadly, Aries – the first zodiacal sign – is great for any new beginning at all!
Aspects
This New Moon aspects seven other planets! Four are part of a …
T-Square
The Sun and Moon form a T-Square with Mercury, Mars, Ceres, and Neptune.
Let's start with the moderately strong conjunctions that bracket the luminaries. Mercury is about 4° away in Aries. This will boost your enthusiasm for learning or sharing information.
Neptune, in Pisces, conjoins the luminaries from the other side. This can help fire you up about spiritual practices, expressing your inspired creativity, and staying in flow state more consistently. It can also help you work with dreams and visionary states.
Mars in Gemini makes a right angle (a square) to all these planets. Mars carries the same archetypal energy as Aries, which further empowers that sign's energies.
It's also noteworthy that Mars and Mercury are in "mutual reception." This means that they're in signs ruled by each other. Mars is in Gemini, ruled by Mercury. And Mercury is in Aries, ruled by Mars. This potently energizes learning and communication, and urges you to take bold initiative to do so!
The only remaining member of the T-Square is Ceres. She represents trauma healing, so have a good shadow work technique (such as my free Healing Invocation) ready. Being the grain goddess, she also represents harvest and abundance. So feel free to build some increased prosperity into your New Moon plans!
Other Aspects
This New Moon conjoins Neptune, but also aspects the other two outer planets. A tight sextile from Pluto strengthens Ceres' themes of shadow work and abundance. This strong and harmonious aspect can also give you extra power to accomplish your New Moon goals.
A tight semi-square from Uranus encourages you to embody your authentic human self and follow your intuitive hits. While you're at it, serve others using your special gifts and talents that you most love to use!
This New Moon's final aspect is a tight semi-sextile from Saturn in Pisces. This can Empower your Law of Attraction manifestation work, and help you maintain embodied awakening more easily.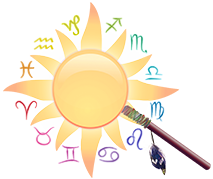 Deepen Your
Insight, Healing & Awakening
Your astrology chart reveals powerful insights into your relationships, career, soul purpose, and much more. Getting a yearly Astrology+ update can show you what's important now!
I also offer Shamanic Healing / IFS, one-of-a-kind Life Coaching, and more. All my services are equally effective in person or long distance.
3/23 (Thu)
Pluto Enters Aquarius!
The biggest astrological event of 2023 — Pluto entering Aquarius — happens at 8:23 am EDT. Pluto will spend about 20 years in Aquarius, and will profoundly influence the next two decades!
But Pluto won't settle fully into Aquarius right away. On 6/11 he'll retrograde back into Capricorn for seven months, then return to Aquarius 1/20/2024 through 8/31/2024. Then Pluto will retrograde into Capricorn one last time for two and a half months, before locking into Aquarius for eighteen and a half years: 11/19/2024 thru 3/8/2043.
Aquarius and Uranus both transmit the energy of the eleventh astrological archetype. For about the first 10 years of Pluto's time in Aquarius, Pluto and Uranus connect by trine or sesquare aspects. This makes the Pluto in Aquarius effect even stronger!
Pluto's Meanings
Pluto has the same meanings as Scorpio, since both represent the eighth astrological archetype. For starters, Pluto represents death and rebirth. If something isn't optimal, Pluto wants to either help you release it completely, or help you transform or heal it so it serves your highest good.
Two other major meanings of Pluto are wealth and power. Wealth can be money, but can also be anything that you value, whether it's tangible or intangible. As Pluto enters Aquarius, be sure to let the universe know what kind of wealth you want!
Power comes in two basic flavors: "power over" and "shared power." "Power over" is like a dictator who wants to keep you under their thumb so they can take advantage of you and exploit you. "Shared power" was exemplified by people like Mahatma Gandhi, Nelson Mandela, and Martin Luther King Jr. Shared power is used to serve the greater good.
Be clear and conscious about the kind of power you're using. There are karmic consequences!
Pluto also rules the occult – which need not be creepy. Occult just means "hidden." In astronomy, for example, occultation happens when an object is blocked by another object passing between it and the observer.
Pluto rules lots of things that aren't visible, or aren't obviously apparent to the five senses. Astrology is an occult art, for example, along with things like channeling, psychic abilities, and mediumship.
The Meanings of Aquarius
How can you best use the energy of Aquarius (and Uranus)? First, accept yourself as the unique, one-of-a-kind human that you are. Don't fight or resent the fact that you function as you do right now, even if some of your ideas and impulses seem weird or strange.
Once you no longer resist the simple fact that you are as you are, at least for now, you can work to heal, transform, or release anything that bothers you. But you have to accept it before you can work with it most efficiently.
Then, to the appropriate extent, express your uniqueness to the world. Some people can "fly their freak flag" all the way up the pole all the time, while others are wise to be more selective. It might not serve highest good to show some of your unique qualities to certain people. Would it be good medicine for them?
Aquarius also rules intuitive hits. This can be an "Aha!" or "Eureka!" experience. Some people say that they know an intuition in their bones or gut, or that they get a full-body "Yes!"
Over the years, I've asked hundreds of clients about intuition. Every single one has told me that things go better when they follow it, while problems arise if they don't.
Finally, the highest level of Aquarius is serving others with your special gifts and talents that you most love to use.
Big Change Now!
When you put Pluto and Aquarius together, you get "big change now!"
With Pluto in Aquarius, along with Pluto aspecting Uranus, it's reminiscent of the 1960s. Pluto and Uranus made three conjunctions in the mid-60s, and were in orb – close enough to connect energetically – from 1960 to 1972. This is the biggest astrological reason why that was such a radically transformative decade, not just in the US but all over the world.
We also had a Uranus-Pluto square in the mid-2010s. Do you remember how intense and radical those years were? They included the Occupy movement, the rise of Black Lives Matter and #MeToo, Trump's shocking win over Hillary Clinton, Brexit, and major advances in LGBTQ rights.
Things always get intense when we join the eighth archetype, represented here by Pluto, and the eleventh archetype, represented by Aquarius (and Uranus). Once again, it's time for "big change now!"
How to Use Pluto in Aquarius
Some of this big change will be beyond your control. But you have plenty of choice about the big changes you want in your own life. Pluto in Aquarius is the perfect setup to rapidly accelerate your personal journey of transformation and evolution!
You can't control everything in your personal life. Your higher self will make sure you get the experiences you need to have the best chance of fulfilling your life purpose. Some might be wonderful, while some might be challenging. A lot depends on how willingly you get on board with what you incarnated to do as a human being.
As I personally face this momentous era, I find one particular insight especially helpful.
It's been my experience that doing effective shadow work is the fastest path to spiritual awakening and personal evolution. (I explain this as the "Great Onion of Consciousness" in my #1 best-selling book, Instant Divine Assistance: Your Complete Guide to Fast and Easy Spiritual Awakening, Healing, and More.) I believe that my willingness to face my unhealed traumas, and heal them using quick and effective methods, is the main reason I've never had to endure a "dark night of the soul."
Pluto rules trauma healing and shadow work, and the lightning-quick energy of Aquarius can help you do it faster than you might have thought possible. My free Healing Invocation has helped thousands (including me) heal their old traumas quickly, easily, and efficiently. And it might work even better with Pluto in Aquarius!
---
What you've read so far is condensed from the "Pluto in Aquarius" section of my 2023 Astrology Forecast Video, with a smidgen of new material. The material above represents about 10 of the 45 minutes I spend discussing Pluto in Aquarius.
The two remaining "Pluto in Aquarius" sections of the video are:
Pluto in Aquarius in the 1500s and 1700s (7 minutes). This is a historical overview of the major events that occurred the last two times Pluto was in Aquarius.
Pluto's current transition from Capricorn to Aquarius: what's been happening and what might happen (29 minutes). Topics include:

Finance
Politics
Dirty Laundry
Big Physical Structures
Internet & Tech
Terrorism & War
Equality
Racism
Climate Change
Catastrophes
Space & Rocketry
COVID
Child Abuse Scandals
Wealth Distribution
To dive deeper into Pluto in Aquarius, click here. To save ten minutes by skipping the material already covered here, start the video at 22:14.
Make that amazing life you've been dreaming about real!
My unique combination of modalities, refined through more than 10,000 AstroShaman client sessions, can help you thrive in all areas of your life. And my unusual approach could help you do this faster than you might have thought possible.
3/28 (Tue)
Mars Semi-Square Uranus
Can you find opportunity in volatility? This is an excellent strategy with Mars semisquare Uranus (1°38′ Cancer-16°38′ Taurus).
Uranus can be a destabilizing influence, and Mars in Cancer can be prone to overheated emotions. Do your best to keep calm no matter what's going on. (You might find my free Embodied Awakening Invocation helpful for this, since it puts your perpetually serene higher self in the driver's seat.)
Unexpected violence is one possibility of this aspect, so do your best to steer clear of dangerous people and situations. However, it also has a major upside potential: it can help you take immediate action (Mars) on your intuitive hits (Uranus). These come directly from your higher self, and are the most accurate guidance available!
3/30 (Thu)
Two Complementary Aspects
Two complementary aspects help balance each other today: a Mars-Saturn trine (2°36′ Cancer-Pisces) and a Venus-Uranus conjunction (16°44′ Taurus).
Venus represents creativity, relationships, and finance. If Uranus disrupts any of these areas, it's only to draw your attention to things that need to be released or transformed. Uranus can also pop down intuitive hits to give you clear guidance and encourage innovative approaches.
The Mars-Saturn trine can provide extra endurance, and can also support fulfilling, stable emotional states. You can also call on its "Steady Eddie" solidity if the Venus-Uranus conjunction throws you for a loop!
Your Weekly Good-Vibes Consciousness Boost
Learn fast and easy tools for awakening, healing, and more, gain wisdom from enlightening guests, and enjoy mind-bending ayahuasca stories. New episode every Tuesday.
Whatever your Sun Sign, my forecasts can help you make the best use of the current astrological energies.
All dates and times are in the U.S. eastern time zone. Events are most powerful on the dates listed, but their influence will be active for at least a week before and after.
Everyone is affected by these global transits. However, you'll be most powerfully impacted when moving planets activate sensitive points in your natal chart. Discover how these transits will personally affect you by booking a session with me.
Learn more about my Astrology+ sessions.
Recent Forecasts
Check back around the 1st and 16th for updated forecasts.